Hi all!
Where are you stay if you trip in Japan?
Onsen(Hot spring)hotel? Gest house? Friends house? Business hotel?
How about stay in "Art gallery"?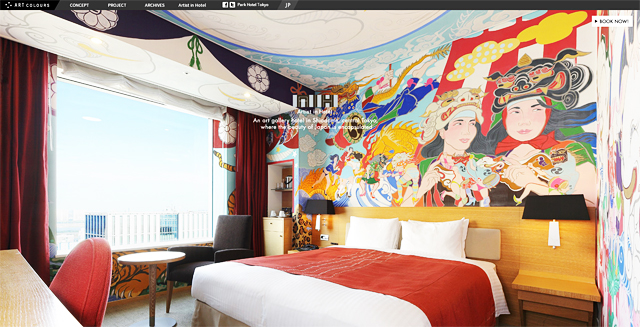 Park Hotel Tokyo plans to add nine Artist Rooms per year over the next three years to create an entire Artist Floor, totaling 31 rooms, as part of its Artist in Hotel project, an adaptation of the well-known "Artist-In-Residence" program in a hotel setting.
In the project, the hotel transforms standard guest rooms into Artist Rooms encapsulating their creators' passions and views of the world, with the artists painting on walls and decorating the rooms with their original paintings or art objects based on the inspiration they obtained while staying at the hotel.
Through this project the hotel endeavors to reach out to foreign guests who are interested in Japanese aesthetics and arts in order to help enhance their cultural experiences during their stay in Japan. It offers visitors an unforgettable opportunity to enjoy art from the comfort of their hotel room.
All rooms are artistic and so cool!!!
Not only foreigner, but Japanese wants to stay too!
Artist in Hotel
Web (English): http://www.parkhoteltokyo.com/artcolours/en/aih.html
Web (Japanese): http://www.parkhoteltokyo.com/artcolours/aih.html
Have a good weekend♡
eico